,Today in class we mostly talked about the notes that each of us had to do for our celestial body project. We were having a forum and the students and Ms.D were asking questions to each other about their planets. During this class we mostly focused on the Sun (Kamil), the meteors etc, the comets and the asteroids.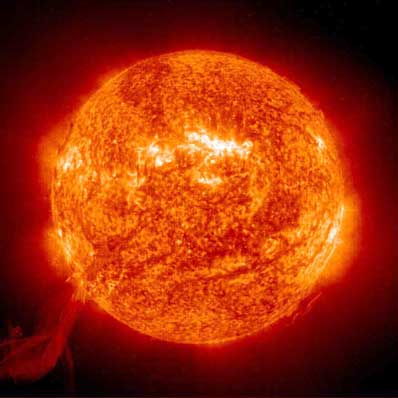 For the Sun we first learned that G2V means that it is a spectrum star which arrived at half of its life. The Sun is a G2V star. We also learned that the sign of the Sun which is a circle with a dot inside comes from the Egyptian god RA. At the end we arrived to the fact that the Sun was created 4.5 billions year ago and it will die in 4.5 billion years ago, which makes it a middle star age.
After with Severyn we learned that the golf of Mexico was made due to a meteorite. This meteorite is also probably the cause of the end of the dinosaurs. Here are the definition and difference between meteors, meteorites and meteoroids.
"Meteoroids are small bodies that travel through space. Meteoroids are smaller than asteroids; most are smaller than the size of a pebble. Meteoroids have many sources. Most meteoroids come from asteroids that are broken apart by impacts with other asteroids. Other meteoroids come from the Moon, from comets, and from the planet Mars."

"A meteor is a meteoroid that has entered the Earth's atmosphere, usually making a fiery trail as it falls. It is sometimes called a shooting star or a falling star."

"A meteorite is a meteor that has fallen to Earth. These rare objects have survived a fiery fall through the Earth's atmosphere and have lost a lot of mass during that process. Meteorites are made up of rock and/or metals."

For these to be fire ball it has to be really big and brighter than Venus (magnitude -4).
After we talked shortly about comets (Cornelia) and what they are. Here is the definition of a comet.
"A comet is an icy body that releases gas or dust. Most of the comets that can be seen from Earth travel around the Sun in long, oval orbits. A comet consists of a solid nucleus (core) surrounded by a cloudy atmosphere called the coma and one or two tail."

After this we moved on to Asteroids (Emma) and started with a scary subject which was that we could die in 2036 because an asteroid could crash. The day when the Asteroid will go into or pass near the belt should be Friday, April 13, 2029! The way it will go will persist of the angle the regions that can receive it are North America, Monsoon Asia or the Pacific Ocean which will make it produce a big tsunami that will be enormous compare to the tsunami in Indonesia in 2004. Asteroids are basically very very big meteorites.
Here is a simulation of the asteroid
We also spoke about terrestrial planets which are planets that are composed. These are the following terrestrial planets in our Solar Galaxy: Mercury, Mars, Venus and Earth.
The opposite of these planets are Gas Giant planets which are planets composed of gas. These are the following gas planets in our Solar System: Jupiter, Saturn, Uranus, and Neptune.
Remember to check Moodle; we got a lot of stuff to do!
http://zagreb.ceesa.net/course/view.php?id=106
<=== Science Course
Nest Sribe is
Gregor